Pixel sur Mer is at the forefront of the latest innovations in terms of data collection and analysis, navigation systems, and fiber optic structure monitoring. Thus, it was obvious for Pixel Sur Mer to take part in this adventure by working with the teams but also the organization on their quest for performance and safety. The organization has indeed called upon Pixel Sur Mer to equip the entire IMOCA fleet of the Ocean Race with Exocet Blue, our flagship product in data management. Our technologies are now ready to sail around the world alongside these sailors who will challenge themselves for many months in extreme conditions.
With some crews like Malizia and 11th Hour, we go further. They benefit from Pixel Sur Mer equipment and technologies that are carefully selected, customized and integrated into their boats by our teams in order to answer to their problems and priorities. It's a tailor-made work that is part of a long-term relationship based on trust.
We will follow with interest the performances of all these sailors and their boats. Beyond our interest in the competition, what drives us is the feedback we will gather. They will be a precious source of inspiration that will help Pixel Sur Mer to invent tomorrow's technologies.
Fair winds and following seas

Interview of Jean François Cuzon, sailor, founder and CEO of Pixel Sur Mer
Jean-François, can you tell us a few words about what Pixel sur Mer products bring to these crews? To the organization?
"Our products meet several needs onboard of our customers' boats: 
- Live and remote ship data monitoring thanks to visualization interfaces (Exocet blue) 
- Navigation system to make all navigation information accessible to the crew. It includes advanced true wind calculation (Exocet Silver) 
- Smart piloting system that brings performance and safety (Exocet Silver and additional pilotage layers) 
- Monitoring the health of composite structures to preserve the boat during extreme conditions (our fiber optic instrumentation technology)
In addition, The race organization called on Pixel sur Mer to make it possible for them to collect and process a set of data onboard of Imocas and for data transmission and live visualization."
Can you tell us how this collaboration between The Ocean Race and Pixel Sur Mer was born?
"We are meeting the organization's need for onshore monitoring in a goal of safety, media communication, and scientific collection. Our collaboration was born out of this need with the challenge of collecting data on board boats that each have different electronic environments. Exocet Blue, our on-board data logger, perfectly meets this need.
Developed by our teams, this instrument is compact, reliable and autonomous. It offers multiple functionalities:
- Data collection from different systems
- Data processing to make it as usable as possible on board, and as compact as possible for remote transmission.
- Live graphic display on board
- Sending selected data to cloud servers on shore
- Graphical visualization to monitor boats at sea
Pixel sur Mer provided an Exocet Blue for each Imoca and supported The Ocean Race team to set up the global solution.
Our Exocet brand was born to bring more performance and security to our customers. This round the world race is a unique technical and human challenge in a hostile environment. We are delighted to participate by providing the boats with our technologies."
Do the Pixel teams assist on the boats during the race?
"The boats are now at sea. The implementation phase is now over. The systems are operational for our clients and for the Ocean Race fleet. We are in a position to assist in case of problems, and we are following the race with interest, as aficionados but also for all the useful feedback we will get from it for future products or improvements."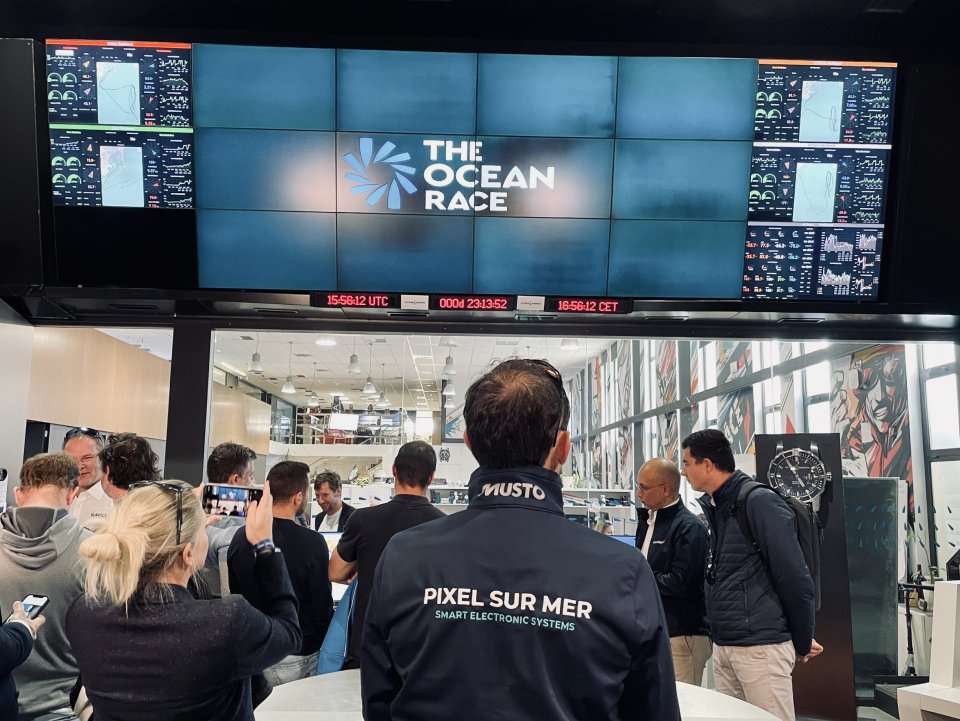 Jean-François Cuzon in front of the monitoring screens The Ocean Race 2023 in the Headquarters in Alicante
Start of the first leg of The Ocean Race 2023 in Alicante
Race Headquarters of The Ocean Race in Alicante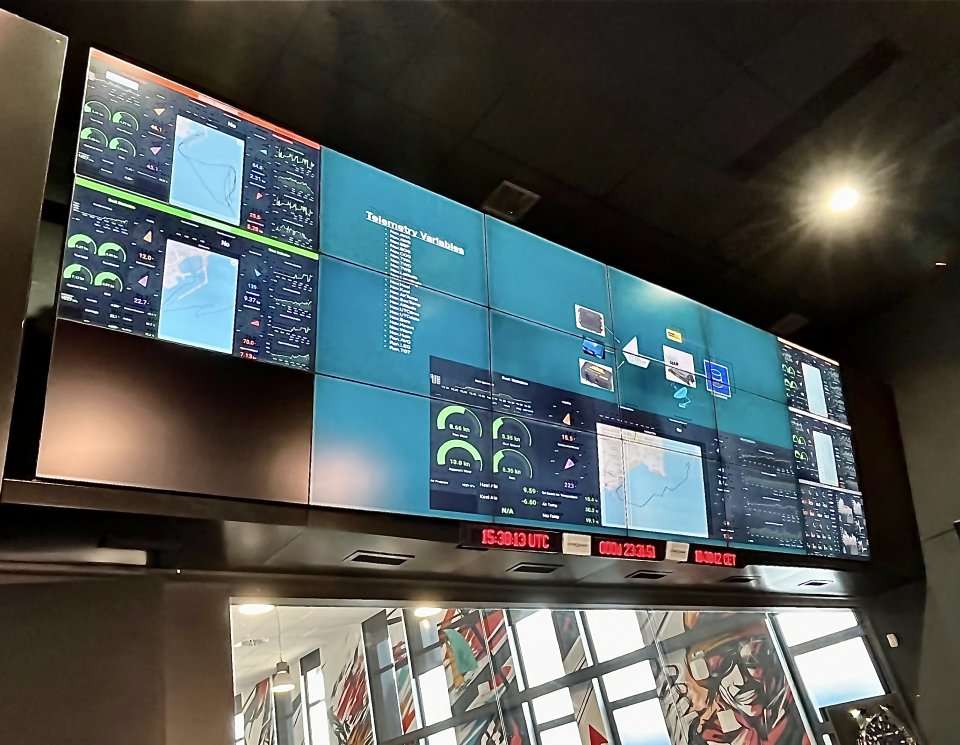 Monitoring screens powered by our Exocet Blue Technology
Photos: Pixel Sur Mer